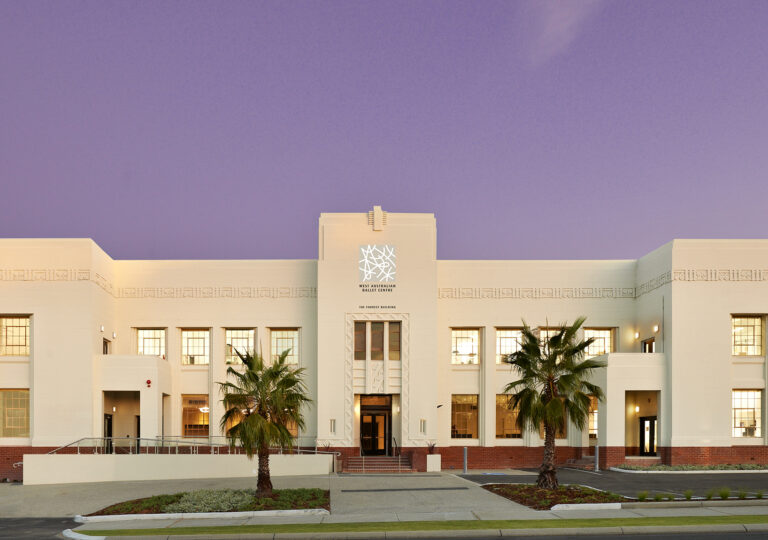 Explore our Frequently Asked Questions
Have questions about West Australian Ballet?
If you can't find the answer you are looking for below, feel free to email your question to info@waballet.com.au
Click here to view our Ballet 101 video series.
TICKETS
How do I book tickets?
You can book your tickets online at our home page or by calling (08) 6212 9292. For disability access please specify when calling.
To make a group booking you can call (08) 6212 9291.
To purchase tickets in person please visit (click to view directions):
Where is the Box Office?
The Box Office is on the first level at the front of the theatre, through the main entrance. The Box Office is open from 9:00am to 8:30pm Monday to Saturday and one hour prior to a performance.
Can I purchase my tickets at the Box Office?
Tickets can be purchased in person at the Venue Box office located in the foyer area of His Majesty's Theatre from 9:00am to 5:30pm, Monday to Friday and 10:00am to 5:30pm on Saturday. You can also visit the other Perth Theatre Trust venues' ticket outlets for ticket purchases in person.
The credit/debit card holder must collect the tickets and present the credit/debit card used to make the booking along with photo ID. Tickets will not be issued to persons other than the credit/debit card holder. Valid concession ID must presented where applicable.
What Terms and Conditions apply when purchasing tickets?
You can view our Terms and Conditions here.
When will my tickets arrive by mail?
Tickets: If your tickets were required to be mailed, they will be processed by the box office and then be delivered by Australia Post standard (regular) mail. Please allow 10-14 days. If you have not received your tickets after this time, please phone (08) 9214 0707.
Season Packages: Please allow up to 21 working days for dispatch from confirmation of order.
If you opted for venue collection, tickets purchased for performances can be collected from the Box Office 90 minutes prior to performance.
What is a single ticket?
Single tickets are those that are purchased to one ballet performance. Single tickets go on sale in November of the previous year.
What is a Season Package/Subscription?
A Season package is a group of discounted tickets for 2 or more of our ballet seasons in a given year. It is more cost effective to purchase a Season Package than purchasing individual tickets throughout the year. A Season Package gives you:
Up to 25% discount on full price single tickets to shows across the year
Access to the best available seats
Discount on additional single tickets purchased
Unlimited ticket exchanges, free of charge
No transaction fees on additional tickets
An exclusive renewal window for the next year – one of the most coveted benefits is first access to the next year's plays before the general public.
We accept Season Package bookings online or over the phone. Please visit our performances page for more information and to make a booking.
What is Demand-Based Pricing?
Due to the popularity of some Seasons or select performances, Demand-Based Pricing increases or decreases may occur at any time during a sales period. These price changes can occur without notice.
Such alterations do not entitle you to a refund or adjustment for ticket purchases prior to the revised pricing. For full terms and conditions, visit our website or call us on (08) 9214 0707.
To avoid Demand-Based Pricing increases purchase a Season Package. More information on Season Packages can be found on our Season Packages page.
Can I bring my child and do they need a ticket?
Venues have a 'Babes in Arms Policy' where children aged 2 and under are able to sit on a lap without a ticket. This policy can vary depending on the show, as some performances may be deemed unsuitable. Please check the information on the performance page before booking. Prams or carriers will need to be cloaked with Front of House staff to store during the performance.
Can I buy tickets from overseas?
Yes you can purchase tickets online while overseas. Patrons must choose the 'Venue Collect' delivery option as tickets booked online cannot be sent to an overseas address.
Can I choose my seats online?
Seat selection is available for all single ticket sales.
If you are purchasing a Season Package, you will be asked to nominate the seats you'd like to have. West Australian Ballet will then personally lock in your seats when processing your Season Package form.
Why do I have to pay a handling fee if I am buying online and collecting at the box office?
The handling fee factors in a variety of costs, not just ticket delivery costs. These include costs associated with taking, processing and fulfilling your ticket booking and the costs associated with the technology we use to provide you with our online ticketing service.
What are the terms of concession tickets?
Concession tickets are available for those who have a Concession/Senior Cards or who are full-time students. If purchasing at a Box Office you must present the concession identification at time of purchase. If you nominate to collect tickets you will be required to present all concession cards at time of collection. Remember to take your valid proof of concession with you to the event as you may be asked to present it when entering.
What is a restricted view?
Restricted view refers to seats that have restricted viewing of the stage or event. B reserve tickets only have partial obstruction. C reserve tickets can have up to half the stage restricted. If you are unsure or would like further information about restricted view, please call us on (08) 9214 0707.
How do I redeem my Entertainment Book voucher?
The entertainment book can be redeemed in person at the Ballet Centre in Maylands or at any of the Perth Theatre Trust box offices including: His Majesties Theatre, the State Theatre Centre and Subiaco Arts Centre. You'll need to bring your physical or digital voucher with you to book.
How do I purchase tickets for multiple events?
To purchase more than one set of tickets to multiple events, click on the "Continue Shopping" button in the shopping cart. You will then be able to add more tickets to your shopping cart and pay for all tickets at once. In some cases, you may only be able to purchase limited tickets to a popular event to ensure equitable distribution of tickets to the general public.
How do I make a special access/wheelchair booking?
If you require wheelchair access, have hearing difficulties or need companion seating please call (08) 6212 9292 or visit the venue box office.
What does "Sold Out/Unavailable" mean and will more tickets become available?
"Sold Out" or "Unavailable" means that there are no more seats available for that performance. However sometimes seats may be released at a later date. It is best to keep checking our website to see if seats do become available.
Can someone else collect my tickets for me?
The credit/debit card holder must collect the tickets with photo identification and the credit/debit card used to make the purchase. However arrangements can be made by the card holder providing a signed LOA (Letter of Authority) with a photo of their credit card and driver's license.
What time should I arrive to collect my tickets from the box office? / How early do I need to get to the venue before the show starts and is there a lock out?
Usually, the box office will open 90 minutes prior to the performance. You can check the running times on the event page or contact the venue directly. Depending on the performance, there may be a lock out if you arrive late. If so you may be able to take your seats when there is a suitable break in the performance. This is not guaranteed and is at the discretion of the promoter. Please check when purchasing your tickets whether a lock out will be in place, as no refunds will be given.
What is a lock out?
A lock out is a term used to describe a period of time in which patrons cannot enter the theatre. Lock outs are normally used when the theatre is required to be dark or silent. The producer of the show decides whether a lock out is required or not. Some performances will not let patrons in once the show has commenced, whereas others may offer a suitable time for patrons to be admitted.
I need to change my tickets to another date; what can I do?
Ticket exchanges are available for most West Australian Ballet productions for a fee of $5.95 per ticket. You can exchange your tickets to another date of the same production, subject to availability and in some conditions up to 24 hours before your performance date.
I have lost my tickets; what can I do?
The box office at the venue will be able to issue you a 'lost ticket voucher' on the night of the performance for a fee of $3.95. Please advise the venue box office beforehand so the appropriate paperwork can await pick up. Please note, lost ticket vouchers can only be picked up approximately 90 minutes before the performance and no less than 15 minutes before.
I can't attend the event. Can I give my tickets to a friend?
Yes, tickets can be given to another person if you are unable to attend, or given as gift. Only the original purchaser will be able to request an exchange, lost ticket voucher or a refund if the show is cancelled.
I need to cancel/change my order. What should I do?
It is a condition of sale that there are no refunds, cancellations or exchanges once bookings have been confirmed. This is in line with the Live Performance Australia Code of Practice for Event Ticketing in Australia.
A refund or exchange of a ticket is applicable only if an event is cancelled, rescheduled or significantly relocated, and you cannot or do not wish to attend the rescheduled or relocated event. Applications for a refund or exchange must be made within a week of the scheduled show.
A refund or exchange of a ticket is not applicable as a result of a change in your personal circumstances or a change of mind.
If you are a Season Package holder, ticket exchanges are available subject to capacity at no additional cost. Please call (08) 9214 0707 to arrange a Season ticket exchange.
What happens if a show is cancelled or postponed?
If an event is cancelled or postponed, ticketing staff will contact you to give you options and let you know how to obtain a refund. Email notification will be sent so please check your inbox for updates.
What seating is available?
Premium: Centrally positioned seats that give the best views.
A-Reserve: Excellent seats that offer clear and unrestricted views.
B-Reserve: These seats may be positioned further from the stage and may have minor restrictions on side of stage views. Among the lower-cost seats, these offer the best value.
C-Reserve: These seats are located in the rear or sides of the theatre and have a restricted view. These seats are located in the extreme rear or sides of the theatre, however, the centre of the stage is still clearly visible.
What happens if I'm running late for the ballet?
For the comfort and convenience of all patrons, latecomers can only be admitted into the auditorium at a suitable break in the performance. Suitable breaks will vary with particular ballets and may not be until the first interval. Ticket refunds or exchanges are not available on the basis of late arrival. The West Australian Ballet strongly recommends planning your journey to ensure you arrive at the venue well in advance of the ballet's start time. These vary, so don't forget to check your ticket for start times.
Can I use my Companion Card?
WAB is an affiliate of the Companion Card program. WAB provides Companion Card holders with a second ticket for their chosen companion at no cost.
Access to Companion Card tickets is only available to Companion Card holders when booking tickets in person, or calling the Box Office on (08) 6212 9292. The cardholder must provide their Companion Card details when making bookings and present a valid ID card.
PERFORMANCES
What happens if it rains at the Quarry?
If it is forecast to rain, the West Australian Ballet Office will be on alert. Often the decision on whether or not a production will go ahead will not be made until the last minute in the hope that the weather will clear. West Australian Ballet monitor this very closely.
If the decision is made to cancel a performance, all ticket holders will be contacted immediately via email and made aware of the options available. Please note Rain Day cancellations are rare.
Why can't I purchase tickets to the Upper Circle at the moment?
At His Majesty's Theatre, the highest level of seating is called the Upper Circle. When there is space in other reserves in the theatre, patrons are sometimes moved into other levels. This can be disruptive to seated patrons, so to minimise this we have chosen to close the Upper Circle until such time as the seats in the lower levels are sold out.
Opening the Upper Circle for purchases will be done on a case by case basis closer to the time of the production.
How do I know if the ballet is traditional, contemporary or a re-interpretation of something else?
Please see each performance page on our website or call us on (08) 9214 0707 or email the team at West Australian Ballet Centre at info@waballet.com.au. We are always happy to advise you on our performances.
Is this ballet suitable to bring my child to?
There are many factors to take into account when bringing children to a West Australian Ballet production. Firstly, you know the temperament of your child better than we do. If you believe your child can sit patiently and quietly through the production (often between 1.5 and 2 hours) then they are welcome to come.
Secondly, some shows are more suitable than others for varying reasons. If you are unsure, please contact West Australian Ballet on (08) 9214 0707.
I want to see my favourite dancer performing. When will I know what date they are dancing?
Casting for each performance does go on our website. However, due to many factors this is often not decided until quite late in the rehearsal period. Often, casting is still undecided until two weeks before the show opens. Casting is also subject to change on a day to day basis. Due to the highly physical nature of the art form, dancers may need to be replaced at the last minute. We apologise for the inconvenience. For performances selling out quickly, we do not recommend waiting for casting to be announced – in some cases shows can be sold out weeks prior to the production.
How long is the ballet?
Please visit the particular performance page on our website for estimated running times. However, these too are subject to change. We often cannot be completely accurate with running times until the show is rehearsed in its entirety in the theatre – usually the week before the production. While most intervals are 20 minutes long, these too can vary slightly.
OTHER
What should I wear?
Feel free to wear something you are comfortable in, usually patrons wear smart casual dress. However, if you are invited to a particular event the dress requirements will be outlined on the event invite.
Can you recommend a ballet school?
It is West Australian Ballet's policy to not recommend any particular ballet school in Perth above any other. The best people to ask are AusDance WA (08) 9322 6101, an independent advocacy group for dance who maintain the most up to date information about dance schools in the state.
West Australian Ballet's public classes are for adults only (over 18 years). For more information head to our Adult Dance Classes page or have a read of the Adult Dance Classes FAQ's.
What can I buy from your shop?
West Australian Ballet has a small range of merchandise available from both the theatre during the season and from West Australian Ballet Centre in Maylands, 9:00-5:00pm Monday to Friday. This consists of West Australian Ballet branded t-shirts, posters, books, signed pointe shoes and various other ballet themed merchandise. Unfortunately we do not have a dancewear shop.
Can I come and watch rehearsals or class?
Generally, classes and rehearsals are closed, however West Australian Ballet invite you to attend Open Fridays where the general public are able to watch the dancers take class in the morning. Visit our Open Fridays page on the website for dates and prices, and call West Australian Ballet Centre for bookings on (08) 9214 0707.
If you are part of a dance school or community group who wishes to watch outside of these events, please contact the office.
I would like to supply feedback on the performance that I attended or the customer service I received, how do I do this?
You are welcome to submit feedback at any time. You can write to us at West Australian Ballet, PO Box 604, MAYLANDS, 6051; or you can email us at info@waballet.com.au or you can call us directly on (08) 9214 0707.