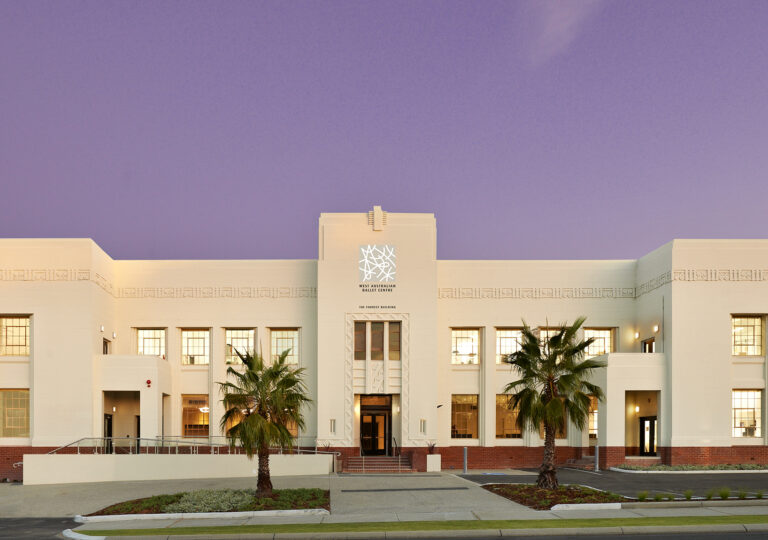 Careers
Explore job vacancies at West Australian Ballet.

Company Dancers
We are always on the lookout for energetic, innovative and passionate artists to join our team.
Auditions for Company Dancers are by invitation of the Artistic Director only.
Suitably experienced candidates may apply at any time to audition@waballet.com.au with the subject line "AUDITION APPLICATION" to be considered for an opportunity to audition. Please note that receipt of an application, does not guarantee that an invitation to audition will be furnished.
Only emails sent to the Audition email address will be reviewed.
Your application should please including the following:
Resume
Photographs (JPEG preferred)
Link to online footage of a Classical variation (Youtube or Vimeo)
After your enquiry has been submitted, please do not send follow-up emails or phone-calls to West Australian Ballet unless you have been asked to do so by a member of the Artistic Team.
Western Australian applicants are strongly encouraged to apply.
Due to the COVID-19 global health pandemic, open auditions are not scheduled at this time. Information about auditions will be posted on the West Australian Ballet Company's website at https://waballet.com.au/careers when new information is available.

---
Philanthropy Coordinator x 2

WAB is currently seeking two outstanding individuals to join our high performing Philanthropy department.
1. Philanthropy Coordinator - Events & Planned Giving
The Philanthropy Coordinator – Events & Planned Giving, is responsible for high level coordination of two distinct areas within the philanthropy program:
Coordination of Philanthropy Engagement Program, including delivery of all Giving Circle events and acknowledgment activities,
Planned Giving Administration, including administration of annual program for Endowment and Bequest Circles to support the long term growth of West Australian Ballet.
This is a front facing role which will require a high level of personal presentation.
2. Philanthropy Coordinator - Annual Giving
The Philanthropy Coordinator - Annual Giving, is responsible for:
Database integrity for the Philanthropy department,
First point customer service for major donors.
Specific duties include database entry and reporting, donation acknowledgements, ticket processing, donor communication by email and phone, event organisation, budget monitoring and providing administrative support to the Head of Philanthropy.
Both roles are responsible for the baseline coordination of Philanthropy activities; in particular, ensuring effective administration of the department and delivery of Giving Circle programs through the provision of excellent customer service to donors to maximize current and potential donor relationships with West Australian Ballet.
It is incumbent on both roles to demonstrate commitment to the mission of West Australian Ballet: "To enrich people's lives through dance" and at all times demonstrate behaviour consistent with the values of West Australian Ballet: "Access, Excellence, Innovation and Integrity" as outlined in the Strategic Plan.
The high achievers we are searching for will have an exceptional work ethic, attention to detail and professional presentation both over the phone and face to face.
These positions will join a highly driven and successful team with the ideal candidate able to hit the ground running whilst also being willing to learn and passionate about assisting West Australian Ballet to achieve their goals and vision.
ESSENTIAL SELECTION CRITERIA
Experience in a similar philanthropy, sponsorship, fundraising, marketing, or event management role,
Event management experience, including creation and execution of events,
Proven ability to professionally manage and engage with multi-level stakeholders across a range of industries and backgrounds,
Database management experience, including the ability to maintain accuracy and integrity of data.


DESIRABLE CRITERIA
A desire to learn and develop professionally,
Flexibility and willingness to go above and beyond in approach to work,
Ability to take direction and execute instructions in a willing and positive manner,
General knowledge of the arts sector.


HOW TO APPLY
1. Review the full position descriptions of both roles: Events & Planned Giving Annual Giving
2. Submit a cover letter, resume, as well as a written response to the preferred position essential selection criteria
3. Submit your application via email to Ms Kellie Elia - Executive Assistant via recruitment@waballet.com.au.
Please mark in the subject line the position you are applying for.
Applications close: Friday 04 June 2021
The Philanthropy Coordinator positions are full-time fixed-term contract (12 months) with the opportunity for appointment in a permanent position pending funding outcomes.