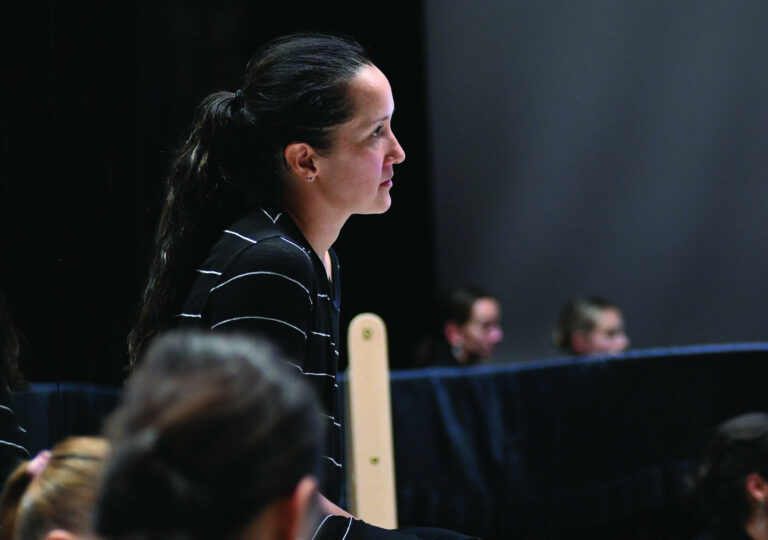 Choreographer Notes
Slow Haunt
Melanie Lane
When Aurelien invited me to create a new work for STATE I was thrilled about the opportunity to create a contemporary dance with ballet artists. It is rare for an independent contemporary artist to be invited into this space, and so I was eager to harness this potential to explore a dialogue between the classical and contemporary worlds.
In 2019 I saw WA Ballet perform the iconic ballet Giselle, and immediately my memories flooded back from my early years as a young ballet student, when I too performed this ballet. Seeing WAB's stunning adaptation sparked my fascination with the ghostly figures of the Willis and Myrtha. A mythology of jilted lovers suspended in the underworld, armed with vengeance and grief. I began to see this timeless narrative of love, pain and the underworld, embedded across a spectrum of various mediums; in film, visual art and echoed in folkloric and contemporary storytelling across diverse cultures.
The human experience of 'love-sickness' - the duality of romance and pain co-existing, felt like a potent space to occupy in building a world where a dance could conjure acts of sensuality, desire, resistance and rage. I began to dream of an army of supernatural, love-sick bodies that have the power to seduce and destroy, a romantic, fantasy thriller.
There is a unique and ironic juxtaposition in the ballet form; the tireless training to strive for perfection, to reach beyond the limits of the body, to defy gravity with ease and grace, is reached through enormous discipline but also through an elite physical endurance and often… through pain. It felt immediately logical that these bodies were the perfect vehicles to express this tension between romance and pain, seduction and war.
Slow Haunt is the manifestation of these ideas. It is a haunting of bodies who seek to seduce each other and the audience. It re-imagines mythologies of the underworld, ghosts awakened by unfull-filled desires, and of aching and enraged hearts. A contemporary, romantic ballet.
I have had the opportunity to collaborate with an incredible creative team; CLARK composing an original score, Akira Isogawa designing costumes and Damien Cooper designing light, all masters in their own fields. I'm truly grateful for their craft and imagination in bringing this world to life.
Working with the dancers of WAB has been a gift and the generosity and keenness to delve into this world has been a fascinating choreographic exploration of the ballet body through a contemporary lens. I have a deep admiration and respect for the dancers of WAB who, through their artistry, are able to transform the body and transport audiences to realms that often feel unimaginable to our own, but are able still to capture the humanity of our lived experiences.